Rising star Jeremiah Smith (twitter) from Chaminade-Madonna Prep is taking his talents to Ohio State in 2024! Read more about the exciting story here.
Excitement is mounting for Ohio State football as they look forward to adding top wide receiver recruit Jeremiah Smith from South Florida's Chaminade-Madonna Prep in the fall of 2024! Get all the details about Smith and his journey to become a Buckeye here. Smith is considered the best receiver in the country from 2024 and the fifth best overall recruit in the nation.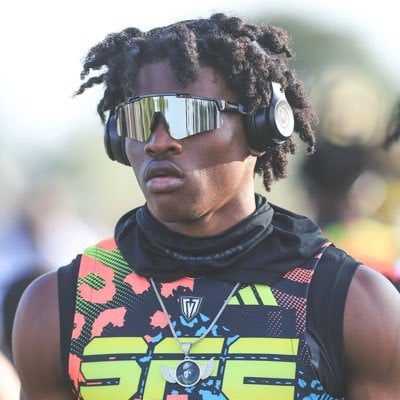 Introduction to Jeremiah Smith from Chaminade-Madonna Prep
Jeremiah Smith hails from Chaminade-Madonna Prep in South Florida and is one of the top wide receiver recruits in the nation. At 6'2 and 190 lbs, Smith is an excellent route runner with great hands and has been clocked as running a 4.4 40 yard dash. Smith will have a chance to make an immediate impact when he joins the Buckeyes in 2024! He had over 39 scholarship offers including Alabama, Florida, Colorado and Georgia.
Details on Jeremiah's Rising Football Career
Smith has been impressing scouts with his impressively versatile skill set since he joined Chaminade-Madonna Prep's football team. His American style of play and aggressive approach to the game made him an attractive prospect to many top college programs across the nation. Smith chose Ohio State because of their strong reputation for developing players on the field and off, something that spoke to Smith's family. It will be exciting to see where Jeremiah's football career takes him in the future!
One impressive aspect of Ohio State wide receivers in the NFL is their success in terms of being drafted high and making an impact on their teams. Ohio State has a reputation for producing highly skilled and productive wide receivers in college, who often go on to be early-round picks in the NFL draft and make significant contributions to their respective teams. Some notable examples include Michael Thomas, Terry McLaurin, and Chris Olave.
Ohio State Program Overview and Highlights
Ohio State offers the best of both worlds when it comes to college football programs. On the field, OSU has accomplished a great deal in recent years and continues to maintain their premier status as a powerhouse program. Off the field, the school focuses on community service and providing student-athletes with academic support to ensure they are successful after they graduate. Ohio State is also known for having excellent facilities and resources available to its athletes. Jeremiah Smith will be joining an impressive lineup of Buckeyes that consistently produces top talent!
There are several impressive aspects that a football player at Ohio State would likely appreciate about being a part of the program.
One of the most significant is the winning tradition of the Ohio State football program. Ohio State has a storied history of success, with multiple national championships and conference titles. This winning culture creates a high level of expectation and motivation for players to perform at their best.
Another impressive aspect is the level of coaching and development that players receive. The coaching staff at Ohio State is known for their ability to recruit top talent and develop players to their full potential. This has led to many successful players in the NFL and a reputation as a top football program.
Finally, the facilities and resources available to Ohio State football players are top-notch. From state-of-the-art training facilities to access to academic support and career services, players have everything they need to succeed both on and off the field.
Ohio State offers a wide range of academic programs and resources to its students. The university has over 200 undergraduate majors and over 250 graduate programs, including highly ranked programs in areas such as business, engineering, education, and medicine.
In addition to its academic offerings, Ohio State provides a variety of resources to support student learning and success. These resources include academic advising, tutoring and study groups, and research opportunities. The university also has a robust library system with access to millions of resources and research materials.
Ohio State is committed to providing a well-rounded education to its students, and as such, offers a range of programs and opportunities outside of the classroom. These include internships, study abroad, leadership and service opportunities, and a variety of student organizations.
Overall, students at Ohio State can expect to find a diverse and challenging academic environment with ample resources and opportunities to support their learning and growth.
Reasons Why Jeremiah Decided to Join the Buckeyes
Jeremiah Smith had many options for college football programs to choose from, but he ultimately decided to join the powerhouse program that is Ohio State. He favored the school's commitment to preparing him for life after his playing career has ended and their track record of producing NFL talent. Furthermore, the top-notch facilities and resources available played a big part in his decision as they provide him with the best opportunity to reach his full potential as an athlete – both on and off the field. Recruited by Brian Hartline and Keenan Bailey, Ohio State was able to grab another top recruit for their already stellar receivers room.
Benefits of Being an Ohio State Student-Athlete
As an Ohio State student-athlete, Smith will get to enjoy an unparalleled college experience. With access to world-class academics and cutting-edge training and development resources, he is sure to reach his full potential both in the classroom and on the field. He'll benefit from specialized medical staff and coaches who will help him stay healthy throughout his career as well as nutritionists who can help fuel him for success. Being part of such a prestigious program has its own rewards, and with it comes the possibility of a successful professional career after graduation.
It is possible that Smith could become a star wide receiver for Ohio State if he chooses to stay committed to the program. Ohio State has a history of producing highly skilled and productive receivers, and the Buckeyes' coaching staff is known for their ability to develop players to their full potential. If Smith were to join the team, he would have the opportunity to work with some of the best coaches in the country and compete at a high level in one of the top football programs in the nation. Ultimately, the decision to commit to Ohio State or another program is up to Smith, but there is certainly potential for him to become a standout player if he were to choose to play for the Buckeyes.